[vc_single_image image="776″ img_size="full" alignment="center"]
Who We Are
Turner Murphy Company is a Utility Contractor, specializing in building water and wastewater treatment plants throughout the Southeast.
We have successfully completed over 125 major treatment plants and upgrades. We self-perform an average of 80% of all work in place. Our projects range from $100,000 to $25,000,000. We are currently licensed in Georgia, North Carolina, South Carolina, and Virginia.
Turner Murphy Company is dedicated to safety, quality, and value. We believe that teamwork is essential to the success of each project. At Turner Murphy Company, we offer an experienced team of superintendents and project managers, with a history of quality work. We believe in taking the necessary steps to ensure that the owners, engineers, subcontractors, and suppliers all collaborate for the benefit of each project, as well as the communities served.
History
[porto_history year="1950″ image="1054″]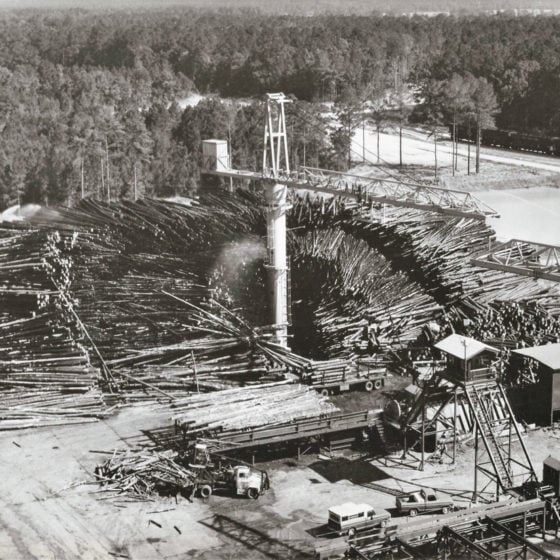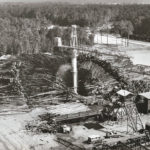 Following World War II, Navy veteran Lt. J.G. Turner Murphy lived in North Augusta, SC, with his wife Tillie, and their three children: Mary, Pat and Mike. It is here where Turner Murphy Company was founded in 1950. They broke ground with just $127.42 and a Civil Engineering degree from Auburn University. Embarking in construction of all sorts, Turner prospered, working with the industries developing around the regions' access to raw materials. New mills began to cover the landscape. Turner did not stop there. He built schools, military, industrial, and commercial buildings.
Turner's vision, hard work, and dedication drove his success. He was proud of the company he built, and of the employees that were the heart of Turner Murphy Company.[/porto_history][porto_history year="1971″ image="1056″]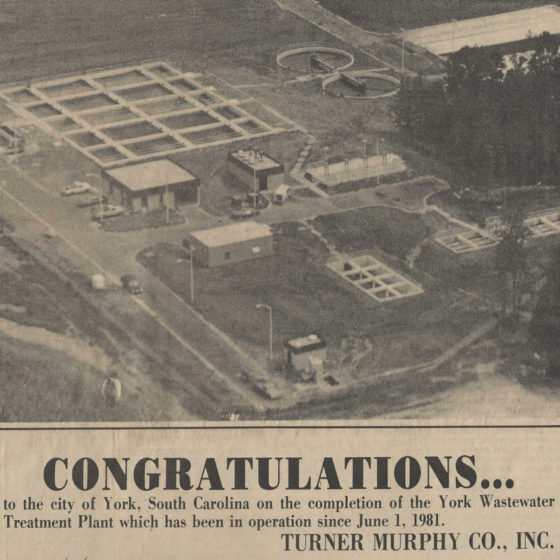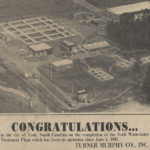 Turner Murphy Company undertook its first Wastewater Treatment Plant in 1971. Following its success, the company directed its full attention to the Water and Wastewater industry in 1975, which would become the cornerstone of who we are today.[/porto_history][porto_history year="1974″]In 1974, Turner's son, Mike Murphy, became President of the company. Mike graduated from Auburn University in 1971, with a degree in Business.[/porto_history][porto_history year="1984″]In 1984, Turner Murphy Company relocated its headquarters to its current city of Rock Hill, South Carolina. Mike made the move, along with his wife, Freida, and two children, Angela and Robert.[/porto_history][porto_history year="2006″]Decades of steady growth and the rising demand for better water and new environmental standards, have only increased the need for quality and experience in the water and wastewater field. Our expanded headquarters was built on 10 acres of land, on the south side of Rock Hill, SC, in 2006.[/porto_history][porto_history year="2016″]More than sixty years since its founding, Mike has helped transform the company into one of the most well-respected utility contractors in the Carolinas. For 43 years, Mike paved the way for future leaders in the industry. In 2016, he was honored by the Carolinas Associated General Contractors, with the Hall of Fame Legacy Award.[/porto_history][porto_history year="Now" label=""]Today, Turner Murphy Company proudly remains in the Murphy family, with Robert Murphy, serving as the President since 2015. Following the family tradition, Robert graduated from Auburn University in 1998, with a degree in Building Science. He lives in Rock Hill, with his wife, Robin, and their three sons, McCarter, Will, and Gaines. Robert is honored to lead the company built by his father and grandfather, and strives to carry on their legacy of hard work and integrity.[/porto_history]
Turner Murphy Company takes great pride in building quality utility infrastructures that will last for decades, and in upholding the values of our founding roots.
[porto_info_box icon="fa fa-crosshairs" icon_size="60″ icon_color="#009a4d" title="Mission" pos="top" el_class="m-t-xxl" title_font_size="30″ title_font_color="#2e353e"]Our aim is to build water and waste water treatment plants with a focus on Safety, Quality, and Value.[/porto_info_box]
[porto_info_box icon="fa fa-eye" icon_size="60″ icon_color="#009a4d" title="Vision" pos="top" el_class="m-t-xxl" title_font_size="30″ title_font_color="#2e353e"]Our goal is to continue building utility infrastructures that support the Southeast for decades to come.[/porto_info_box]
[vc_separator color="custom" style="solid" gap="taller" accent_color="#dbdbdb" el_class="m-b-none"]
Memberships
[vc_single_image image="754″ img_size="200×68″ alignment="center" onclick="custom_link" img_link_target="_blank" css_animation="fadeIn" el_class="m-b-none" link="https://www.cagc.org"]
[vc_single_image image="753″ img_size="medium" alignment="center" onclick="custom_link" img_link_target="_blank" css_animation="fadeIn" el_class="m-b-none" link="https://www.agc.org/"]